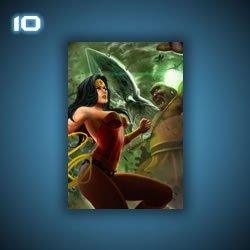 Furious at the Brainiac attack on Paradise Island, Hippolyta, Queen of the Amazons, began silently planning a counterstrike against the mortal world for letting the infestation of Braniac reach her shores. Hippolyta decides the time for peace has passed and that the time of war and death has begun.
Amazon Fury: Part 1 is an Episode that costs $ 9.99. Players can access this and all DCUO Content with Legendary Membership for only $ 14.99/month
Available Content!
GOTHAM UNDER SIEGE – Zone
A miniature City Zone where players can find T6 set and new Solo missions.
Aegis of Truth – T6 CHALLENGE | CR 99- CR 116
Through the eyes of Wonder Woman, discover how the Amazons became divided
Circe's Trial – T6 CHALLENGE | CR 99- CR 116
Discover Circe's involvement in the planned Amazon attack on Gotham City
Supply Lines – T6 DUO | CR 100 – CR 116
Fight for control of the warehouses in Themyscira and establish the supply lines that will ensure victory in the Amazon war in Gotham
Port of Paradise – T6 DUO | CR 100 – CR 116
Assault the enemy docks in Themyscira to prevent them from resupplying their armies in Gotham City
Themyscira Divided – T6 ALERT | CR 100 – CR 116
Join Wonder Woman and her rebels in their attempt to take back the Palace and make the Queen see reason
Available Missions!
Available PVE Tier Vendors