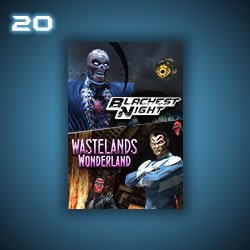 Nekron has arrived in the finale to the War of the Light saga, "Blackest Night"! He has joined his herald, Black Hand, in extinguishing all light – all life – in the universe. Then head over to "Wastelands Wonderland" where imps and demons run amok in the fiery Gotham Wastelands. Help Raven defeat her brothers, Jack and Jacob
Blackest Night & Wastelands Wonderland is an Episode that costs $ 4.00. Players can access this and all DCUO Content with Legendary Membership for only $ 14.99/month
Available Content!
Wastelands Wonderland – T7 DUO | CR 138 – CR 172
"Wastelands Wonderland" sends you to Gotham's fiery wasteland, with Jacob and Jack seductively and slowly planning their next moves. Help Raven put her annoying brothers back in their place!
Blackest Night – T7 RAID | CR 138 – CR 172
In "Blackest Night" a massive Black Lantern has erupted from the blood-soaked streets of war-torn Metropolis and Nekron has risen from this deathly soil. You must fight alongside Carol Ferris and the Lantern Corps and send Nekron back to the Land of the Unliving.
Available PVE Tier Vendors