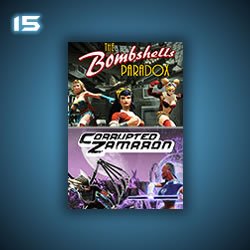 Fight alongside the DC Bombshells and explore their World War II-inspired alternate universe in "The Bombshell Paradox". Then travel to face the Black Lanterns in "Corrupted Zamaron", continuing the War of the Light storyline.
Bombshells Paradox & Corrupted Zamaron is an Episode that costs $ 4.00. Players can access this and all DCUO Content with Legendary Membership for only $ 14.99/month
Available Content!
Corrupted Zamaron – T7 DUO | CR 113 – CR 152
"The Black" has re-emerged in the universe and has targeted the Predator entity inside the Central Power Battery on Zamaron. Help Carol Ferris defend Zamaron from the Black Lanterns!.
The Bombshell Paradox – T7 RAID | CR 113 – CR 152
In her attempts to alter their timeline and change the outcome of World War II, "the Lady al Ghul" has created a tear in reality that must be fixed!Travel through the rift in time and space to set the Bombshells universe back on its correct path before the paradox rift spreads across the multiverse.
Available PVE Tier Vendors