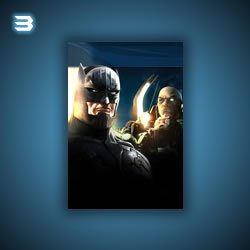 The battle against Brainiac peaks attempts to claim the Flame of Change from Themyscira. Meanwhile, Batman notes new activity in the southern districts of Gotham City and learns of Brainiac's forces amassing within and around the bottled buildings.
The Battle for Earth is an Episode that costs $ 4.99. Players can access this and all DCUO Content with Legendary Membership for only $ 14.99/month
Available Content!
Gotham Hospital – T2 DUO | CR 43 – CR 64
South Gotham has been shaken by Brainiac's invasion activity. Enter the bottle Gotham Hospital and put a stop to his schemes.
Riverfront Center – T2 DUO | CR 43 – CR 64
Brainiac has his sights set on South Gotham. Enter the bottled Riverfront Center and disrupts his plans.
Riverside Hotel – T2 DUO | CR 43 – CR 64
Brainiac's invasion force is erupting from the bottles in South Gotham. Enter the bottled Riverside Hotel and stem the flow!
South Gotham Courthouse – T3 ALERT | CR 53 – CR 79
Brainiac's Union Forces have taken over the Gotham City Courthouse, using it as a processing center to reprogram newly converted citizens. You must disrupt their workflow and take down their Union leaders.
The Gates of Tartarus – T4 RAID | CR 70 – CR 90
Brainiac has descended into Tartarus and stolen the Flame of Change. His forces have emerged and only the comined might of your team with the aid of Circe's Bestiamorphs and Wonder Woman's Amazons can stop them.
The Prime Battleground – T4 RAID | CR 70 – CR 90
Brainiac has reached the final stage of his plan to harness the power at the center of the multiverse. You must stop him here before he can reach the Earth's core and alter reality itself!
Available Relevant Missions!