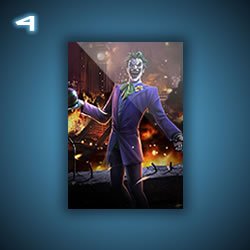 Growing irritated with the alliances between heroes and villains, the Joker gains the access codes to the hero and villain Safe Houses, and "shares" them with all members of the conflict. Heroes and villains begin fighting each other in an attempt to shut down and/or invade the opposing force's lairs.
The Last Laugh is an Episode that costs $ 1.99. Players can access this and all DCUO Content with Legendary Membership for only $ 14.99/month
Available Content!
Shady Nightclub – T3 DUO

(Heroes)

 | CR 53 – CR 79
The Society uses nightclubs as a front for their criminal organization, each hoarding a cache of stolen technology. Take advantage of the weakened security and raid the stash house!
Police Station – T3 DUO

(Villain)

| CR 53 – CR 79
The security breach has the Science Police on edge, and they're using experimental containment technology on every crook in custody, from street thugs to heavy hitters. Bust them out and find the device that will cancel the containment field!
PVP ZONES
Safe House: Graviton Technology Recovery
4 vs 4
Safe House: The Rescue
4 vs 4
Safe House: Bomb Disposal
4 vs 4
Headquarters: Watchtower
8 vs 8
Headquarters: Hall of Doom
8 vs 8