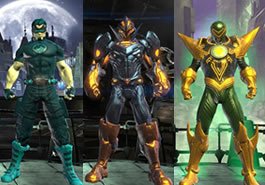 DC Universe Online allows players to enjoy its exciting world with Free to Play access. However, there are other Access Level which will let them improve their game experience.
This guide shows players the difference between each Access Level for them choose the best access level for their gameplay
Here is a comparison table where detailed information about Access Levels is shown.
Free
Premium
Legendary
Money Cost
Play for Free
Spend $5 or more
$14.99 Monthly Game Pass
Content
Access the game for free!
Access the game and earn bonus features
Access the game, plus DLC Expansion Packs.
Maximum game features unlocked
Game Updates
Free
Free
Free
DLC Expansion Packs
Purchase Optional
Purchase Optional
Free access
Character Slots
2
(can purchase more)
6
(can purchase more)
16
(can purchase more)
Inventory Slots
28
(can purchase more)
42
(can purchase more)
63
(can purchase more)
Auction Slots
0
(can purchase more)
5
(can purchase more)
20
(can purchase more)
Bank Slots
12
(can purchase more)
24
(can purchase more)
48
(can purchase more)
Trading
None
Items only
Items and cash
In-game Currency
1500 Max
2000 Max
Unlimited
Chat
6 text chat messages per 30 seconds
Proximity (voice) chat, 6 text chat messages per 30 seconds
Unlimited
Send Mail
Text only
Text and items
Text, items and cash
Vault Tickets
One free ticket per week
One free ticket every 3 days
One free ticket per day
Players Leagues
Can join
Can join
Can form or join
Account Access Explained
Free Gameplay Access
Every account starts with Free Gameplay Access and let players enjoy the full leveling (1 to 30 Level) without any content restriction. However, reaching level 30 is just finishing the tutorial of How to manage your character. Check http://dcuobloguide.com/guides/new-at-level-30/ for more information about what to do at level 30.
After Level 30, raising their combat rating and obtaining skill points is the real essence of playing DCUO. They can hardly reach Combat Rating 84 which will let them access to free Tier 1, Tier 2, Tier 3, and Tier 4 content. Check http://dcuobloguide.com/guides/increasing-combat-rating/ for more information about Increasing Combat Rating.
Players can also access to most of the PVP content which includes Legends and Arenas instance. Some PVP instances require The Last Laugh and Home Turf DLC Packs
Free Access has some limitation in game currency, sending emails, chatting, and more. However, for a new DCUO member this is enough for them to know the basics about the game and they can become Premium or Legendary anytime they think are ready
Premium Gameplay Access
Best of all, Premium Access does not expire.
To have Premium Access, players should only spend $5.00 or more. This means that if a player buy a DLC Pack (which cost $10.00) or pay for the Legendary Gameplay Access ($15.00 per month), they will automatically become premium players.
If the player bought the Legendary Gameplay Access, when it finishs they will have Premium Gameplay Access and all the bonus features this level access has.
If a player buy all the DLC Packs they can also access to all in-game content withouth becoming Legendary. However, premiums still have some limitation in game currency, sending emails, and chatting but these limitations are not that severe as Free Access restrictions.
Some players prefer to buy all DLC packs before becoming Legendary because it is cheaper and let them play the game without heavy limitations and can access their bought content anytime they want without time expiration
Legendary Gameplay Access
The Legendary Level is the "I want it all" way to play.
To access this Gameplay Access, players should pay $ 15.00 per month
Legendary Access includes 16 character slots, a greatly expanded inventory, and bonus features:

Access to all DLC Packs
150 Free Replay Badges Monthly
Unlimited Prometheum Lockbox Unlocks
Unlimited in-game currency
Free daily Vault Access
Form a League
Trade items and cash
10% OFF unlimited marketplace purchases

Check https://www.dcuniverseonline.com/shop/membership for more information about plans and discounts for Legendary Membership
Once Legendary Membership expires, players will go back to Premium Access and only bought content and free content will be available to play.