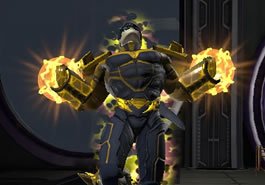 Combat Rating, known as CR, is a statistic possessed by player characters representing the overall item level of equipment.
Raising Combat Rating will unlock in-game content and provide better gear, weapons, and R&D Plans. This guide will tell you what relevant content players should run to reach T8 Content

Available 'On Duty' Relevant Content!
Here is the list of all available content for players that recently reached Combat Rating 111:
Available Relevant Missions!
Here is the list of all available missions for players that recently reached Combat Rating 111:
Available PVE Tier Vendors
Content Loot complemented with some T6 Equipment will let players to reach CR 126. Here is the list of all available vendors for players that recently reached Combat Rating 111 and need to raise their Combat Rating:
Guide Tips
There is no way for free player to raise their CR more than 126 if they don't have at least one of the next DLC Packs: Halls of Power: Part 2
Queue on Challenge, Duos, Alerts, and Raids to start earning Marks of Victory for getting equipment with Item Level 98+
Alerts and Raids can be harder to do with queue, so you might need to join a helpful League or make your own group to queue together.
Don't forget to do available Daily missions and Weekly missions to earn additional Marks of Victory.
All content have DLC requirements, so players should buy the require DLC to access its content.
Once you get the desire 154 Combat Rating, check our Combat Rating: CR 154 to CR 190 guide