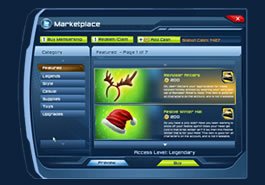 We are excited to announce new options will soon be available when purchasing content (DLC Packs) in the DCUO Marketplace. We are taking this opportunity to make changes so that all players, and especially new players, can make purchases that are more relevant to them.
What will be different? Essentially we will split our existing DLC Packs into their individual parts, and offer those separately in the in-game Marketplace for Station Cash, Marketplace Cash, or real world currency, as well as in larger bundles. The DLC Packs available now will be retired and removed from the Marketplace and from the PSN Store.
These changes will not impact past purchases. If you have already purchased or purchase DLC Packs before these changes occur, you will keep everything currently included.
As you know, DLC Packs in the past have come with a wide variety of features, including playable content, powers, weapons, Legends characters, and upgrades. Previously, the only option available if you wanted to purchase one of those things was to also purchase some other content, or Legends, or powers that maybe didn't appeal to you. Going forward, with each item sold individually, you will have more freedom to purchase just specifically what interests you.
Please note, Membership is unchanged and continues to include access to all DLC items, as noted below.
Episodes
The playable content from our DLC Packs will be available in Episodes. These Episodes include what were previously DLC-specific missions, open-world zones, and solo, duo, alert, and raid content from the On Duty menu. Members automatically have access to all Episodes
 Fight for the Light
$4.99
 Lightning Strikes
$4.99
 The Battle for Earth
$4.99
 The Last Laugh
$1.99
 Hand of Fate
$4.99
Home Turf
$4.99
Origin Crisis
$4.99
Sons of Trigon
$4.99
 War of the Light: Part I
$4.99
 Amazon Fury: Part I
$9.99
 Halls of Power: Part I
$9.99
War of the Light: Part II
$9.99
 Amazon Fury: Part II
$9.99
Powers
The six DLC Powers will be available individually, without any content attached. Members automatically have access to all Powers
| | | |
| --- | --- | --- |
| | | |
| Light – 600 SC / MC |  Electricity – 600 SC / MC | Earth – 600 SC / MC |
| | | |
| Quantum – 600 SC / MC | Celestial – 600 SC / MC | Rage – 600 SC / MC |
Upgrades
Several DLC Packs included upgrades to your characters, and these are now also available individually. Members automatically have access to all Upgrades.
| | | |
| --- | --- | --- |
| | | |
| Shield Access – 500 SC/M | Utility Belt Access – 500 SC/MC | Lair System – 500 SC/MC |
Note: Lair System includes the ability to upgrade your base Hideout into a Lair, use the Mainframe and Generator, and all the features within
Legends Characters
Legends characters included in previous DLC Packs will now be offered on the Marketplace. As with other existing Legends characters, Legends characters purchased on the Marketplace will be redeemable on all characters on your account.
Current Member benefits for Legends characters will continue (in that Legends characters can be unlocked by Members using Marks of Legend).
Amon Sur 500 SC/MC
Kilowog 500 SC/MC
Powergirl 500 SC/MC
Ursa 500 SC/MC
John Stewart 500 SC/MC
Arkillo 500 SC/MC
Bizarro 500 SC/MC
Doctor Fate 500 SC/MC
Felix Faust 500 SC/MC
Cheetah 500 SC/MC
Donna Troy 500 SC/MC
Atrocitus 500 SC/MC
Saint Walker 500 SC/MC
Bundles
While we are looking forward to being able to offer more choice in the Marketplace with the above options, we also realize there are players out there who prefer to buy in bulk, and save while doing so. With that in mind, we will feature a new selection of bundles as well.
Power Bundle – $29.99

First six DLC Powers – Light, Electricity, Earth, Quantum, Celestial, Rage

Episode Pack I – 14.99
Episode Pack II – $14.99
NEW Ultimate Edition – $64.99

Episodes 1-9
First six DLC Powers – Light, Electricity, Earth, Quantum, Celestial, Rage
Access to Shield, Utility Belts, and the Lair System

Power of Light Bundle – 3500 SC/MC

Light and Rage Powers
Green, Red, and Gold Auras
Hal Jordan and Sinestro Legends characters

Gear Up Bundle – 1000 SC/MC

Access to Shield, Utility Belts, and the Lair System

Ultimate Base Bundle – 6500 SC/MC

Access to the Lair System
4 Armories
2 Deeds
Penthouse and Eastern Lair Themes
Day Trader, War Room, and Industrious Amenity Packs
Our aim with these Marketplace changes is to provide you with better options when purchasing content. No matter how you choose to support DCUO, know that we appreciate it! Look for these changes to occur at the end of this month.