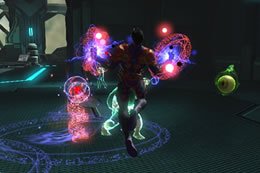 Sorcery players master universal metaphysical laws to bring enemies to their end or see allies to victory. This power is available for all players for FREE during Character Creation.
Sorcery Healer guide updated to GU47
Statistics Priority
Restoration: Restoration increases healing
Power: Power is required to use powers in your loadout, and is drained as they are performed
Critical Healing Chance: Increases the chance to perform a critical healing
Critical Healing Magnitude: Increases the amount of health restored with a critical heal
Power Points Build

Sorcery Healer Loadout

Rejuvenate: Use your connection to the supernatural to instantly

restore Health to yourself and the most injured

group member. Grants Golden Soul Aura that increases healing critical chance by 10%
Ritualistic Word: These spellbound words will

heal you and up to 3 allies

. Provides a shield for the Watcher pet and restores Power over time
Circle of Protection: conjure a glowing sigil beneath your target,

continuously healing any allies that seek refuge upon it

.
Boon of Souls: Surround yourself and up to 3 group members inside protective barriers that prevent incoming damage. 

(Usable While Controlled)

Transcendence (50% Supercharge Cost): Transcend the mundane and cast a powerful spell of protection. While active, incoming damage and impulses are prevented, and you and your group members'

Health and Power are significantly restored over time

.
Summons Watcher: Summons a healing pet that will attack your enemies and

heal itself, you and your group members

.
Sorcery Healer Tips
Keep using "Rejuvenate [1]" to heal yourself and the most injured group member instantly.
Use "Ritualistic Word [2]" when multiple group members need to be healed and for power over time your "Watcher [6]"
Use "Circle of Protection [3]" everytime you can
Keep your "Watcher [6]" powered with "Ritualistic Word [2]" to help you in the healing task
Use "Boon of Souls [5]" for shielding your allies in critical situation
Weapon: Restorative Adapter
Neck: Focused Restoration
Back: Breakout Regeneration
Feet: Explosive Block
Chest: Quick Healing
Hands: Regenerative Shielding
Red Socket

Yellow Socket

Blue Socket
Post Gallery