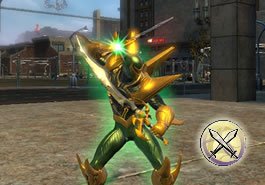 Dual Wield is a fast, dexterous style using paired melee weapons. Weapon Mastery, introduced in Game Update 36, allows player to perform cross-weapon combos.
Dual Wield can combo into select Brawling and Bow attacks.
To unlock Dual Wield Mastery, players must spend 20 skill points in Dual Wield tree. Depending on their needs, they should spend skill points on required Statistics for their Power role. Furthermore, they must unlock the next Dual Wield Combos:
Whirlwind Overstrike
Stunning Swipe
Double Throw
Dual Wield can be used as a Cross-Weapon from:
Purchasing Dual Wield Mastery causes required attacks combos to hit for increased damage. It will also increase critical strike damage and resistance to control effects while using Dual Wield.
Weapon Mastery Tips
Unlocking as much weapon mastery as you can will grant you access to the Weapon Mastery Points which require you to spend 21 skill points in that weapon tree.
We suggest you to focus on your Main Weapon tree (Dual Wield) and both Cross-Weapons's tree (Bow & Brawling).
Cross-Weapon Combos
Using a super power at the moment Cross-Weapon Combos impact will increase the super power's chance to crit by 360% and its critical damage significantly.
On healer, tank, and control role, using a super power at the moment Cross-Weapon Combos impact will decrease the super power's Power cost.
Dual Wield Statistics
Total
Point x1
Point x3
Point x6
WM Point x3
Precision
80
5

75

Might
115
10
30

75

Health
192
42
150
Defense / Toughness
30
30
Dominance
42
21

21

Vitalization
40
4
12
24
Power
111
36

75

Restoration
93
3
90
Critical Attack Chance
Critical Attack Damage
12%
12%
Power Heal Critical
1%
On the third point of

Dominance

Critical Healing Chance
3%
3%
Critical Healing Magnitude
Unlocking Dual Wield points for Roles
Players must spend at least 20 skill points in Dual Wield tree to unlock the Weapon Mastery; so depending on their role, they can spend their skill points in this way.
First of all, unlock recommended Dual Wield Combo:
Dual Wield Weapon Proficiency – 1 skill point
Whirlwind Overstrike – 1 skill point
Stunning Swipe – 1 skill point
Dual Flurry – 1 skill point
DPS Role
Critical Attack Damage (4% per point): 3 skill points
Dominance / Power Heal Crit (+7 per point / 1%): 3 skill points
Might (+5 per point): 6 skill points
Health (+7 per point): 4 skill points
Might / Precision: Weapon Mastery Points x3
Control Role
Dominance / Power Heal Crit (+7 per point / 1%): 3 skill points
Vitalization (+2 per point): 6 skill points
Power (+6 per point): 6 skill points
Health (+7 per point): 1 skill point
Power / Vitalization: Weapon Mastery Points x3
Health / Dominance: Weapon Mastery Points x3
Healer Role
Critical Healing Chance (1% per point): 3 skill points
Dominance / Power Heal Crit (+7 per point / 1%): 3 skill points
Health (+7 per point): 6 skill points
Power (+6 per point): 4 skill points
Restoration: Weapon Mastery Points x3
Tank Role
Defense / Toughness (+10 per point): 3 skill points
Dominance / Power Heal Crit (+7 per point / 1%): 3 skill points
Critical Healing Chance (1% per point): 3 skill points
Health (+7 per point): 6 skill points
Power (+6 per point): 1 skill point
Health / Dominance: Weapon Mastery Points x3
Dual Wield and Cross-Weapon Statistics
| | | | | |
| --- | --- | --- | --- | --- |
| | Total | | | |
| Precision | 258 | 80 |  80 | 98 |
| Might | 305 | 115 |  105 | 85 |
| Health | 594 | 192 |  210 | 192 |
| Defense / Toughness | 60 | 30 | |  30 |
| Dominance | 105 |  42 | 42 |  21 |
| Vitalization | 104 | 40 |  36 | 28 |
| Power | 369 |  111 |  111 | 147 |
| Restoration | 366 | 93 |  138 |  135 |
| Critical Attack Chance | 3% | | | 3% |
| Critical Attack Damage | 24% | 12% | 12% | |
| Power Heal Critical | 3% |  1% | 1% | 1% |
| Critical Healing Chance | 6% |  3% | 3% | |
| Critical Healing Magnitude | 12% | | |  12% |